Tips on Creating the Perfect Bespoke Proposal From The Heart Bandits
Proposal season is right around the corner and you are probably trying to figure out how you can plan the perfect bespoke proposal. The Heart Bandits help men all over the world plan their perfect proposals and today, we've enlisted their help to provide you with some great tips to make your marriage proposal completely unique and flawless. Read Michele Velazquez's six tips, to ensure you have the perfect bespoke proposal, after the jump.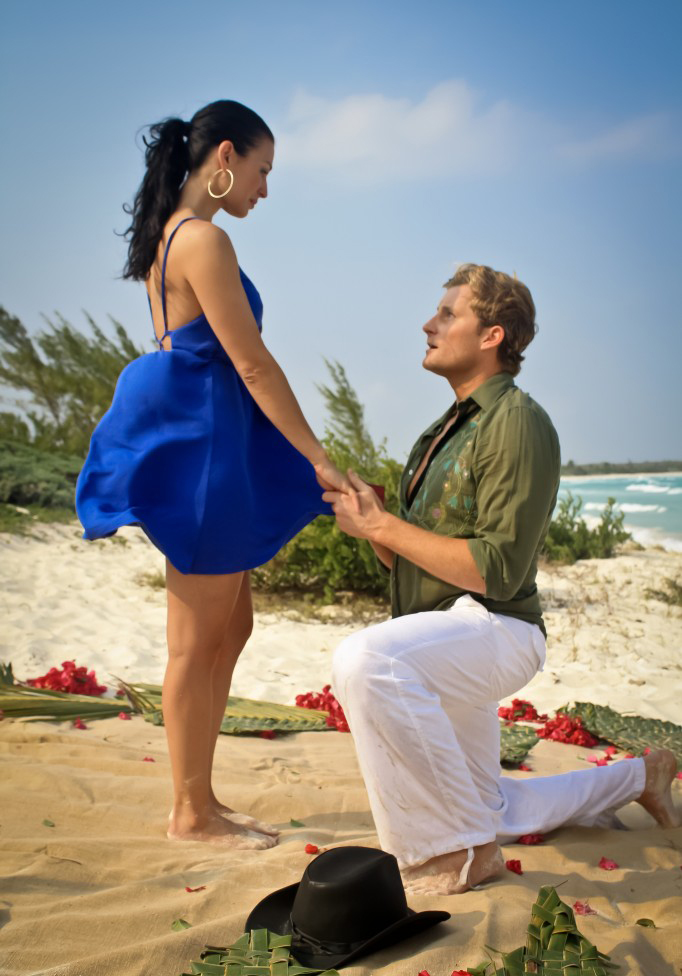 Make it about her
Though you and your girlfriend may do everything together and are best friends, make sure that the proposal is tailored to her personality. While she may tolerate you watching football games, do not assume that she will be thrilled about a Jumbo Screen proposal. Because she likes to hang out in groups, do not assume that she would want to be proposed to in front of others.
Think about the type of person she is and the type of proposal that would truly make her melt. Would she like an intimate proposal at the beach after a candlelit picnic or would she prefer to be the centre of attention during the moment she's waited her life for? Would she prefer a glamorous day of pampering leading to the big moment or would a day of simplicity be more her style?
Best proposal idea
Use the information that you brainstormed above to create the best proposal idea. Now that you have thought long and hard about what she would truly want, you can start putting it all together. Once you have on paper what your final proposal concept will be, you can move on to the next step.
Choose the right vendors
Now that you have come up with the perfect proposal idea, it is time to put your plan into action. Write a checklist of all of the outside help you need to pull off the proposal. Do you need a venue, a guitarist, helpers, etc.? After you determine the help you would need, begin researching the best vendors and companies needed to pull it all off. Check online reviews and get referrals from people you trust.
Hire Help
If all of the tasks above seem overwhelming, consider hiring a professional Proposal Planning company like The Heart Bandits. A professional knows just the right questions to ask you to be able to come up with he perfect bespoke proposal idea. Once you have the idea you love, they will pull from their list of trusted vendors to be able to execute your proposal flawlessly, saving you time and stress. Some companies also have Do-It-Yourself Proposal Planning videos in case you need some professional assistance, but don't have the funds for a full time Proposal Planner.
Document
One of the most important parts of a marriage proposal is documenting the event. Your girlfriend will want to look back at the moment you proposed for the rest of her life. Be sure to hire a photographer, videographer, or have a friend take snapshots.
Find The Perfect Ring
Now you've got your proposal plans underway, it's time to start thinking about an engagement ring. A bespoke engagement ring is the perfect choice, for something as special and unique as your carefully planned proposal. You can tailor your ring to suit your bride-to-be's tastes, or why not create a ring based around the theme of your proposal? Anything is possible – talk to the experts at Taylor and Hart now, to begin designing your perfect engagement ring.
Michele Velazquez.
Visit The Heart Bandits today for more excellent advice on planning your perfect bespoke proposal.