Halo Engagement Rings
Delivering a striking presence and brilliance, halo engagement rings are the perfect style for those who want to enhance the overall appearance of your engagement ring.
What is a halo engagement ring?
This ethereal style features a ring, or 'diamond halo', of closely set smaller diamonds that surround the center gemstone. These smaller diamonds are often referred to as pavé diamonds.
Does a halo make the diamond look bigger?
Halo engagement rings are an excellent way to enhance the overall appearance of your ring–the style cleverly gives the illusion that your center stone is larger than it is, with a sparkly finish.
This dramatic cluster of precious gemstones is sure to capture the attention of all who catch its glance, without the premium price point of a larger center gemstone.
Why should I choose a diamond halo engagement ring?
The versatility of a halo setting is appreciated by hundreds of thousands of people worldwide. This diamond engagement ring style has countless combinations of customisation; from different halo stone sizes, shapes and colors, a halo can be entirely personalised without losing the traditional center gemstone element.
The halo made its debut in the 1920s, at the height of the Art Deco era. Today, the halo has seen a resurgence, closely following the classic solitaire as the second most popular engagement ring style, for those who want an impactful twist on a traditional ring. They also look great with a wide range of wedding ring styles, both plain, polished bands and elaborate diamond paved bands.
How can a halo diamond engagement ring be customized?
A halo ring has countless combinations of customisation. From different stone sizes, shapes and colors, a halo ring can be entirely personalized without losing the traditional center gemstone element.
Shank style
Halo rings look beautiful with both a plain or pavé shank. A plain shank offers a simpler, cleaner appearance and gives the center gemstone a greater presence, while a pavé shank, paved with diamonds will result in a more brilliant overall appearance. To follow the Art Deco characteristic, the number of pavé stones on the shank is typically equal on both sides, creating symmetry.
Alternatively, the shank of a halo engagement ring could feature a split shank, in which the band splits into two narrower bands. A split shank can be further customized by being entwined, twisted, pavéd or left in its originally polished state.
Any of these band finishes will give you the classic aesthetic of a halo engagement ring, with a different feel.
The center gemstone type & shape
The centerpiece of a halo diamond ring can be a fancy-color or colorless diamond, or another precious gemstone, such as ruby, emerald or sapphire. Each stone choice can be mixed and matched with other pavé choices for contrast, or can all remain the same stone type for a more classic finish.
A cushion, princess, oval or round diamond are the most popular diamond shapes when it comes to a halo, as well as colored gemstones like sapphires, rubies or emeralds are classic choices for a halo. This doesn't mean to say that other shapes don't work. Other stone shapes like radiants and emerald-cuts can look striking when wrapped in the stones of a 'halo'.
Even the pointed ends of cuts like the pear and marquise, that sometimes put people off, for fear of being caught or chipped, are actually softened and protected by the smaller stones that 'wrap' the center diamond.
Pavé color
Choosing contrasting pavé gemstones gives your ring a custom look. Colored precious gemstones as the pavé halo surrounding a coloorless diamond combines tradition with a splash of bold color. Or reverse it and use a coloured diamond or gemstone as a center stone and surround it with a classic diamond halo.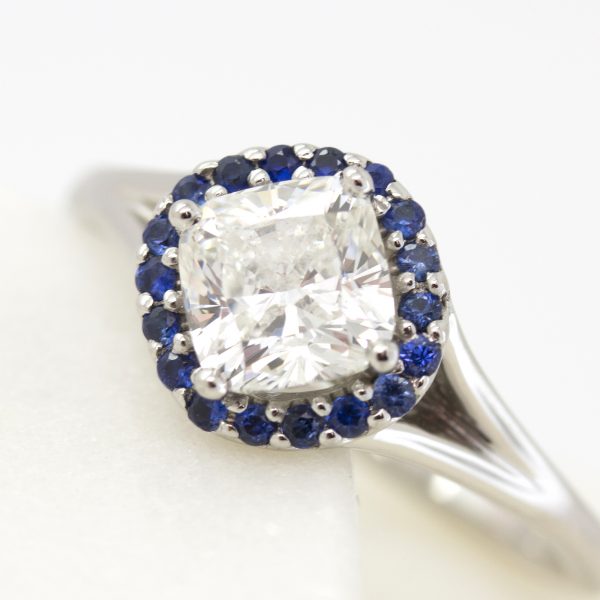 Metal
A classic diamond looks spectacular in the traditional metal choices for halo rings, white gold and platinum as well as the warm tones of rose gold and yellow gold.
For diamonds with a color grade of H or I, yellow and rose gold work to mask the slight tint that is sometimes present in lower color grade diamonds, ensuring they remain looking bright and white in appearance.
For this reason, mixed metal settings are emerging as an engagement ring trend that allows wearers to get the best of both worlds by using two tones without having to select D color grade diamonds.
Rose and yellow gold have seen a rise in popularity in recent years not only due to their flattering appearance, but also the soft, warm tones they exude. Their hue can also enhance the color of assorted gemstones, so if you're including colored diamonds or gemstones in your halo, these metals will complement them perfectly.
Number of halos
For those who yearn for a truly show-stopping piece, a double halo, or even a triple halo, circling your stone will give your ring substantial impact. Each 'halo' of pavé diamonds or gemstones will make the ring look bigger, so a triple halo diamond ring would enhance a very small center gemstone without the premium price tag.
Custom cut pavé gemstones
Sometimes a design requires a particular shape, size or color that isn't typically found in most classic halo rings. While custom cut stones come at a premium, they mean a ring can be created exactly as envisioned, from scratch.
Celebrity halo engagement rings
Admired by some of the world's most-recognized stars, from royalty to actresses, halo rings continue to increase in popularity .
The Duchess of Cambridge's, Kate Middleton's engagement ring, is a vintage Garrard design, once worn by her late mother-in-law, Princess Diana. Featuring a blue sapphire surrounded by a halo of white diamonds, this ring is perhaps one of the most iconic in modern day ring trends.
Other celebrities include Kate Middleton's sister, Pippa, Eva Longoria, Olivia Wilde, Sofia Vergara and Natalie Portman, many of which include colored gemstones. With a multitude of customisations and details, the charming opportunities of a halo engagement ring have not gone unnoticed and we presume this style will remain on-trend for years to come.
View this post on Instagram