Signature Ruby
At Taylor & Hart, we understand that your jewellery is sentimental and meaningful so we set each piece with a small ruby inside the band, when design permits, as a little secret between you and your partner. Our signature ruby serves as an intimate reminder of the love and attention that went into creating the perfect ring.
You can even choose to set a different gemstone inside the band. Perhaps your partner's favourite colour, or their birthstone, will add a personalised touch to your design. To all 26 types of Signature Gemstone that we offer, read 'All of our Signature Gemstones, explained'.
And just to add to the magic, we give the option of adding more than one or none at all to your engagement ring. The choice is yours!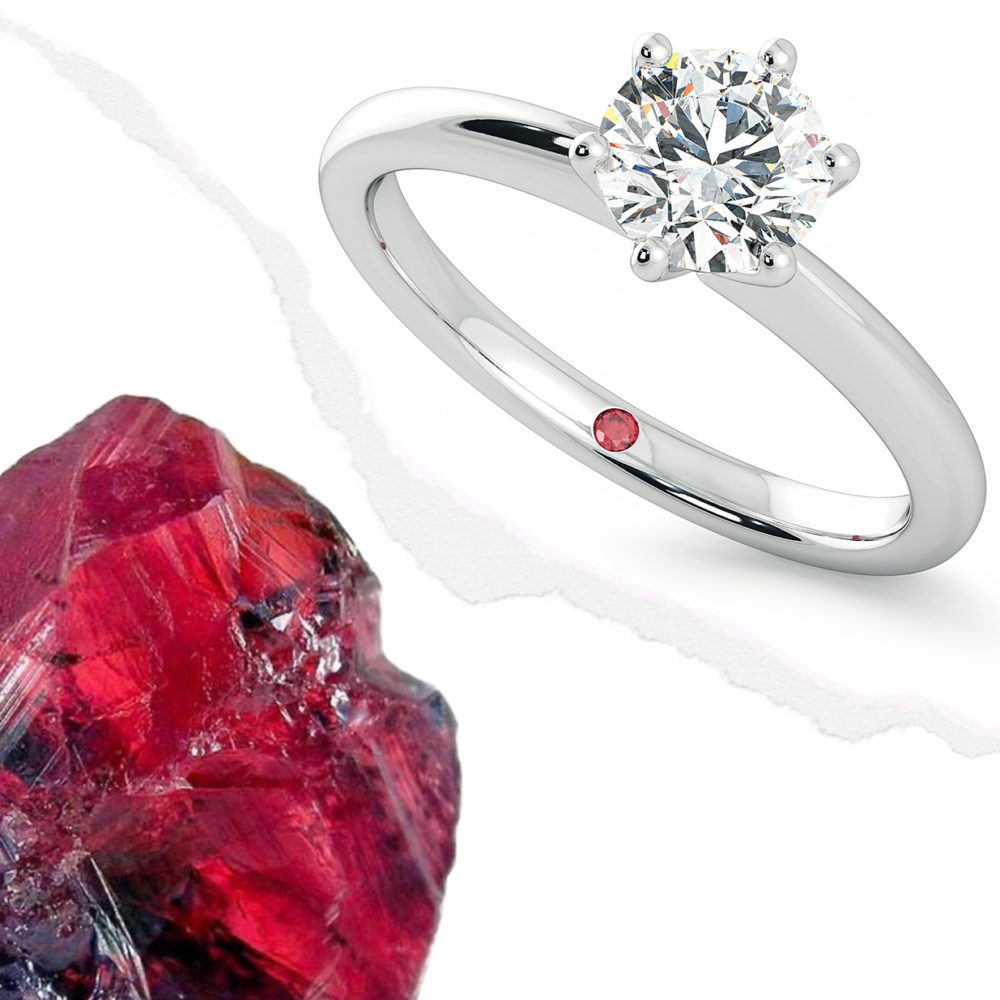 Where is my signature ruby from?
From 2021, we've partnered with Greenland Ruby to source the Signature Rubies that are embedded on the inside band of each engagement and wedding ring we make. Read more about our partnership here.
Given their deeply meaningful role in your rings' design, it's a top priority that our Signature Rubies are ethically sourced. With a newfound supply of rubies and other gemstones in this unique geographical region, Greenland looks to be one of the best places in the world to procure ethically and sustainably sourced rubies.
The Greenland Ruby mine is located in a drained waterway within the icy landscape of an arctic fjord. Greenlandic rubies are sourced in new mines which don't rely on out-of-date machinery and infrastructure, meaning they're mined with state-of-the-art equipment that has a minimal impact on the surrounding environment. Plus, when the mine reaches the end of its lifecycle, the area will be fully restored to its natural wilderness. 
As well as offering sustainable mining methods, Greenland Ruby is committed to supporting workers and the Greenlandic economy. The majority-Greenlandic workforce employed by the company have guaranteed protections and working conditions according to Greenland's strict legal standard.
Photo credit: Vincent Pardieu
How does your ring make a difference?
What attracted us to Greenland Ruby most was their unique ability to provide complete mine-to-market traceability on all their gemstones. Every batch of ruby melee they produce comes with a certificate of origin that breaks down the provenance of the gemstone. This information can be easily accessed through the batch's unique ID number assigned to it as soon as the rubies are extracted from the mine.
This kind of transparency is crucial, especially today as the main challenge facing the gemstone industry is the infiltration of 'conflict gemstones', or gems that have been produced outside of ethical and human rights standards, into the legal gemstone trade. You can read about the importance of gemstone provenance when it comes to ethical engagement rings here.
Greenland Ruby is the first coloured gemstone member of the Responsible Jewellery Council, an organisation which ensures the best practices and responsible behaviour across the jewellery industry. Greenland Ruby also has their own foundation, called the PinkPolarBear Foundation, dedicated to making a difference to the lives of the Greenlandic people. As well as allocating funds towards education, the foundation focuses on international polar research into the effects of climate change on the region.
We hope that this partnership has you excited as we are. It's just another stride we're taking towards making the jewellery industry a more sustainable and ethical place for all.