"Why should it be the guy to ask the girl? So I decided to ask him back! Marriage is a two-way thing."
Read below of Weng and Li-Wei's modern romance, full of laughter and emotion. From a series of revealed surprises to an unorthodox proposal, follow Weng and Li-Wei's story to get to know the happy couple!
How did you two meet?
W: We were both journalists at the time and we got sent on assignment at this beach resort to report on a running, swimming and open water event. We met there and Li-Wei was the only one who laughed at my jokes. So when the assignment was over, I asked her out.
Weng, when did you know that Li-Wei was the one?
W: Hmm.
L: Haha, I've asked him this question before and there's no specific answer.
W: In January 2016, I had a minor operation. It was still quite early on in our relationship but Li-Wei stayed with me at the hospital for the entire time I was there. So, yeah, that was when I knew, quite early on.
Li-Wei, when did you know that Weng was the one?
L: Let's see. Maybe about six, seven months in. There wasn't a specific event. With Weng, it just felt like I could imagine a future!
Li-Wei, do you have a favourite memory of a time that you both share together?
L: I think it would have to be my birthday trip in 2017. We went to Langkawi, which is an island in Malaysia. We pretty much chilled, we got to speak a lot about the future. We sat down on the beach and spoke about the direction of where we were headed towards.
Weng, what is a favourite memory of a time that you both shared together?
W: We have lots of good memories.
L: Yeah, it's true. We actually laugh a lot together.
W: I had a teddy bear called Snuffles that I owned when I was about 8 years old. It was my favourite teddy bear but unfortunately I lost it at a hotel during a holiday. I brought up Snuffles during a conversation with Li-Wei, who then went behind the scenes to find the exact model of Snuffles I had lost.
Li-Wei was somehow able to procure an exact model of the Snuffles teddy bear, and on Valentine's Day 2016, Li-Wei and I went to the gym (very romantic), at which point Li-Wei took my car keys, and buckled the newly acquired Snuffles teddy bear into the back seat.
As we were leaving the gym, I approached my car and found my long lost favourite teddy bear in my car smiling at me.
So, tell me the story of the proposal?
W: The proposal happened in December 2018. I had the ring and then I proposed to Li-Wei, and there was no surprise.
L: I think I should tell the story – Weng is terrible! He cannot keep a secret! It was around a year before the proposal. At that point in time, he was planning a holiday to the UK for December, 2018. I said we should go ring shopping when we are in the UK because they probably have better varieties than in Malaysia. So then he started to hesitate, and I was like, oh, why are you not excited? He said "No, no, I'm very excited". Then he paused and he went, oh, I was hoping we could get the ring before the UK trip. Busted!
That was how I knew he was gonna propose then. In everything leading up to the trip, details on the proposal started coming out and I basically told him, okay, fine sir, since there's no surprise, the only thing I will request is snow. I want snow!
That's a big request!
W: I said don't worry because I studied in Durham from 2009 to 2012. It always snowed in Durham, it was always freezing! In the days leading up to the planned proposal, we were already in the UK and there was no snow. I'm like, "Oh wow this is really warm, not like I promised." There was one day which forecasted snow, and it kept on moving around!
L: We were legit planning when he would propose based on the snowflake sign.
W: So let me fast forward to the proposal. They predicted the snow around 4:00 PM but we were worried it was going to get dark. So I decided I would propose in the afternoon after we had lunch. I had planned a pre-rehearsed speech for when I got down on one knee. However, when it came to the proposal, I completely forgot it! Someone walked by and slightly distracted me.
Then when I looked back, Li-Wei was on one knee too, and she was counter proposing!
Weng
L: In our relationship, we are not the super lovey-dovey couple, I can make very mean jokes!
It's a sign of affection, I feel.
L: Yes. He knows I'm angry when I'm nice. I told all my friends, I know he's going to propose, there's no surprise. I was thinking, okay, what should my reaction be? I thought, If there was no snow, I wasn't going to say yes. So, I came up with the idea that I should propose back. If he's going to ask me, I should ask him back as well!
W: I was the one who cried a lot–I was sobbing and shrieking. So I burst into tears after being counter proposed to and then we went back into town. It snowed that evening in Durham at about 4:30pm–the only place in the UK that had snow at that point in time!
L: And it was our last night in the UK!
Wow, the stress of you waking up in the morning and knowing it was your last full day!
W: For the proposal, we went to a quiet spot along the river which had the Durham Cathedral in the background. I got down on one knee and I was giving the whole spiel…
L: It was just two sentences. He just went "Li-Wei, you know I love you so much. So…" and then he got down on one knee and took out the ring and said "Will you marry me?" He was already tearing up at this point.
W: Then there was that elderly couple that walked by!
So he was waiting for my answer. And I was thinking, "You've asked me a question, now I have a question to ask you back."
Li-Wei
W: I don't even really remember this.
L: He had emotionally blacked out. So this couple walked by. This lady overheard me saying, "Oh, I'd like to ask you a question" so she said, "Oh, I would like to hear this question!" As I was about to pull out the ring, both of us turned to look at the lady. When he turned back to me, I was down on one knee with the ring! I said, "Will you marry me?" He burst into tears, crying! I had to nudge him and I said, "So you know, if you say yes, you can put the ring on my finger!"
W: There were a lot of ruined, spoiled secrets along the way. Our photographer is a funny part of the story as well.
L: The photographer is our friend, he was actually with us when we first met. His name is Edmund, he takes amazing photos. I suggested to Weng, I said, "You know what, Edmund's a great photographer, why don't you try and talk with him to see if he would like to go over to the UK." So then they both tried to surprise me by saying that Edmund couldn't make it because he had another job at a time!
W: We were at lunch right before the proposal, and my phone buzzed with a text message. I knew it was Edmund. He was letting me know that he was in position and then Li-Wei saw his name pop up from the other side of the table, and she just gave me this look. I was like, hmm yeah. About that…
L: He tried to hide that it was Edmund, but I texted him to say "I'll see you later."
W: I knew what spot Edmund was in. He came out of the bushes and he was like, "Surprise guys!"
I think nothing gets past you anyway!
W: She's very sharp and very blunt.
So who said yes first?
W:I remember screaming and wailing a bit.
I think he said yes first but he didn't really say yes. He just kind of nodded while sobbing.
Li-Wei
W: Yeah. I kind of shrieked.
That's a pretty amazing memory. So tell me, how did you find Taylor & Hart?
L: I found Taylor & Hart via Instagram because I had quite a specific idea of how I wanted my ring to look like, but I couldn't seem to find a designer or any place that would sell what I had in mind. I was scrolling through Instagram and I saw this ring that Kate designed. The ring was really close to what I wanted, so I spoke to Weng and I said, "Oh my God, this ring design is amazing, why don't you email Taylor & Hart and see if the bespoke design is within our budget!"
W: We had an email conversation going on with Kate for about a week before we finalised our design. Li-Wei would offer her input, and I would offer my input. It was a very seamless and fast process.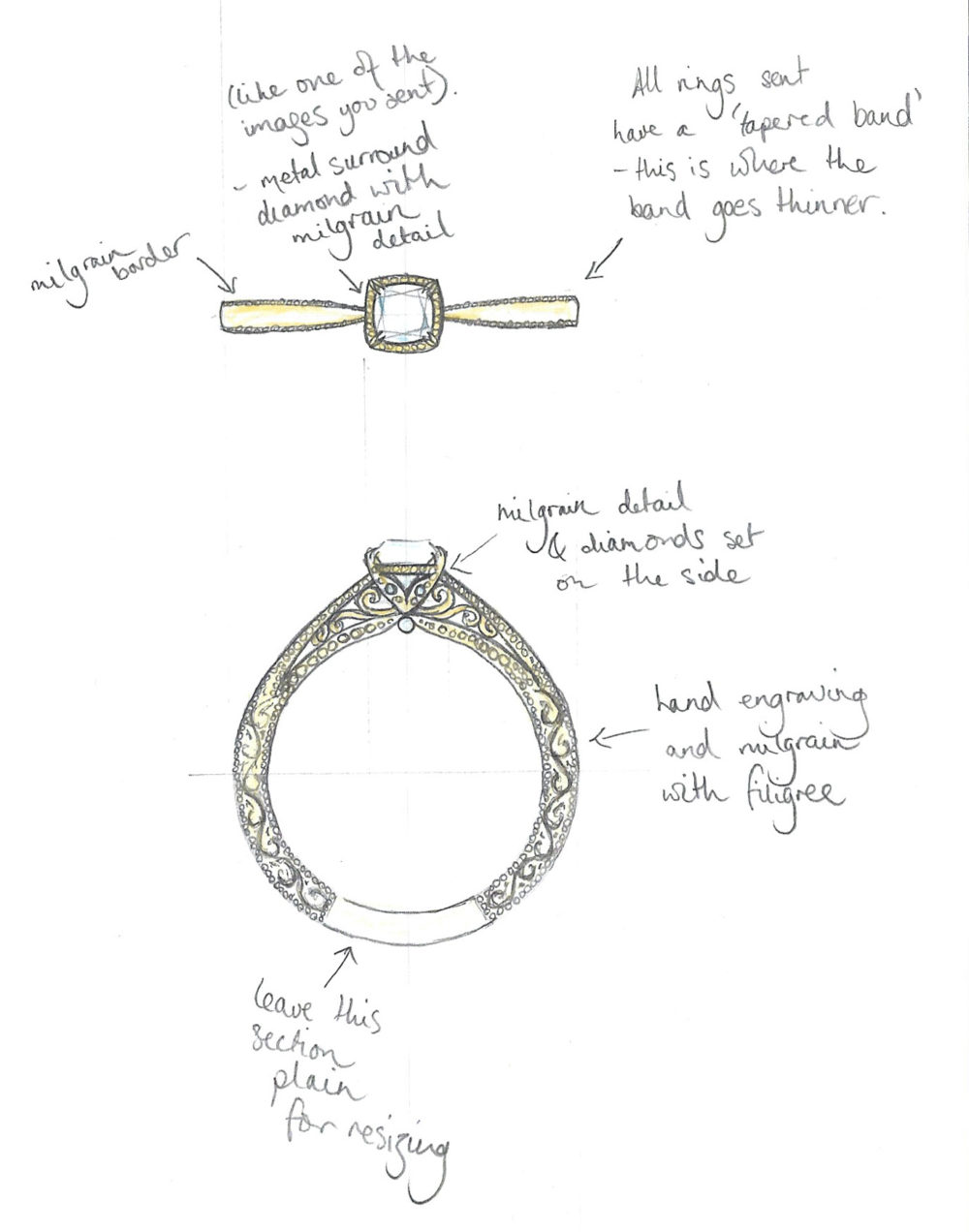 Since it was a collaborative effort, did you see the ring Li-Wei or did Weng receive it and hold onto it?
L: I saw the ring because I am impatient as hell. I wanted to see it come to life. I tried it on and it was love at first sight.
So it fit perfectly, and is exactly as you hoped it would look?
L: Yes! It was brilliant. I showed all my friends and even they were quite taken aback. It's exactly how it looks in the drawing!
Amazing. So you went with a green sapphire. Why is that?
L: Well, I think the colour is beautiful. Every time I show my friends they are blown away and comment on the tone.
So Li-Wei, you decided that you wanted to counter propose. Why is that exactly?
L: I wanted the memory to be super special and something that would resonate with us. I'm kinda mischievous and a joker. I like to play pranks on him. I was just thinking "Hmm, what will send him over the edge?"
W: She's very mischievous. Also, Li-Wei is a big advocate of women's equality and equal rights. She likes to put her money where her mouth is, rather than just say that she stands for women's rights and equality.
I thought, he's asking me, but why should it be the guy to ask the girl? So I decided to ask him back! Marriage is a two-way thing.
Li-Wei
How did you figure out his ring size?
L: We basically have the same ring size!
W: I'm a very small guy, so we have the same feet and hand size.
L: He tried my ring on as well.
W: Yeah. I was like, okay, if it fits me it should fit Li-Wei.
Well that's a brilliant idea! Is there anything that inspired the design?
L: I've always been drawn to very intricate, vintage and traditional designs. But I would say that there wasn't anything in particular that inspired the design.
W: Well, we know what we don't like. So we didn't want a huge heavy rock and a lot of bling that would be matronly or old fashioned. We wanted something quite fresh.
L: Right off the bat I knew I wanted matte gold. I like that it looks simple from the top, but when you look at the side it has a lot of detail.
I think the whole idea was that we wanted a ring that could be worn every day. For safety and security reasons, we wanted something that was subtle, so that when you look closer you can admire and appreciate the quality and craftsmanship.
Weng
W: For example, my sister's engagement ring is quite classic with a big diamond but it sits in the safe all the time. I think that's a shame to have such a nice ring that you can't bring out on a daily basis because it just attracts too much attention. So we wanted something that was discreet and personal, that we can appreciate.
It's a really beautiful colour. It feels very unique.
L: I love looking at it. Every time I'm wearing it, I think to myself that it's so pretty. We had such a positive experience creating the ring with Taylor & Hart, and we recommended the company to our friends in the UK.
W: When we were on our proposal trip, we dropped by the Taylor & Hart office and we managed to meet Kate face to face.
L: We had to meet her, she did such a great job!
W: It was unplanned, we didn't inform the office or anything. We were walking around the city, and I realised that the Taylor & Hart office was nearby. It just so happened that Kate was in the office!
So Li-Wei, what is it about Weng that makes you smile?
L: Oh, I think it's his humour and that he doesn't take himself to seriously. I mean he's very serious when it comes to work but not when he's around me. He makes a lot of jokes and makes me laugh. It's just his antics I guess. He's very patient with me. He's not the most patient with others!
W: At work I'm extremely blunt and very serious but when I'm with Li-Wei I have a very different persona.
L: He's a very self-deprecating human and I like that I can make the meanest of jokes but he's completely fine. But obviously I would have to make sure that he's okay with it. Right?
Sounds like you bring out the best in each other. So Weng, what is it about Li-Wei that makes you smile?
W: She's very kind. We have very similar hobbies and we can do a lot of things together, I feel like I don't have to hide anything from Li-Wei at all. We play video games together, we spend a lot of time with our dogs. We go to the same gym. The other day, one of my friends was grumbling that he wanted to play video games online with me, but then his girlfriend was like, "Why are you playing video games, you should be spending time with me!" I don't have that problem, I don't have to choose.
What are some dreams that you both share for the future?
L: Haha, we are both scratching our heads!
W: Hmm… I'd like to be able to afford to send a kid to uni? Kids?
L: We don't exactly have a plan, we're very simple people, we just want to be productive and happy. However, I would say my biggest wish is that we will be able to continue being this in sync even after marriage because you know, they say marriage is a totally different ballgame. I hope we can grow together yet still maintain our goofiness!
Thank you Weng & Li-Wei for sharing your heart-warming, entertaining love story!