Are people really buying engagement rings online?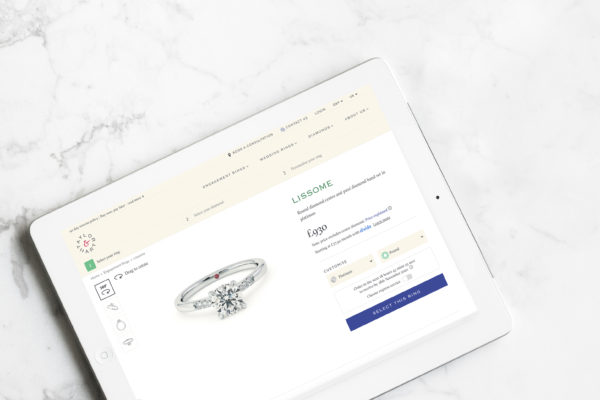 We're guessing you're reading this article because you're shopping for an engagement ring. And while this article is online, you're probably not so sure about actually buying a ring online. Right?
For a purchase so immersed in emotion and value, an online jeweller doesn't seem like the obvious choice. Are there people who actually buy their engagement ring online?
The answer is not only "yes", but you may even be surprised to know that the number of engagement rings sold online is growing every year, at over 20% annually.
Nonetheless, we understand that the prospect of buying a ring online often raises some very valid questions. Here are some you're likely asking yourself right now:
Can I trust an online business to deliver a high quality jewellery product?
How will the ring and diamond actually look in real life?
What if we don't like the ring once we see it?
Will they be there for me if I need a ring resize or repair in the future?
At Taylor & Hart, we founded the company to radically improve on the existing jewellery shopping experience–to disrupt a stagnant jewellery industry that demands excessive margins, offers limited options and delivers a lacklustre customer experience.
We offer our customers a better custom-designed product and a personalised service. Through our lean business model, we offer savings of up to 50%, compared to the offering of traditional high street jewellers.
We do this by combining the best of both an online and traditional jeweller, addressing the questions above – questions that many of our customers also had before purchasing a Taylor & Hart ring.
Here's how we do what we do:
We take the best of an online jeweller…
A wide selection

: We have over 150,000+ diamonds and gemstones to choose from in a range of shapes, colours, sizes and clarity grades – and if it's not on our website, just ask us. We're able to find or custom cut a diamond or gemstone just for you.

Value for money

: By purchasing directly from diamond and gemstone polishers, we cut out the middlemen and pass on those savings to you.

Privacy & convenience

: Browse from your mobile or computer, at work, at home or on the go, without the need to speak to a salesperson until you're ready to do so.

90 day returns

: We all want to have the peace of mind that if we don't like what we bought online, we can securely return it for a refund or exchange. As a bespoke product business, we're not required to offer a returns policy, but we do so anyway. We know you'll appreciate the peace of mind of being able to make a return if needed and we're happy to offer it because 99.5% of the people who purchase from us, are happy customers.
…and merge it with the best of a traditional jeweller
Personal service

: Want to speak with a human who "knows their stuff"? Our consultants are talented jewellery designers and expert gemologists. You can reach them on live chat, Whatsapp, on the phone or in person at our New York and London showrooms. Because our showroom is not on the high street, but tucked away close by, you receive a discreet and personal service without the markups traditional jewellers are forced to charge to cover their extravagant rents.

Bespoke designs:

 Most online jewellers offer 'customisation' but not a custom design service. For them, customisation includes selecting from a limited amount of pre-existing design elements. Like a traditional jeweller, we offer a completely bespoke service, by designing a ring and selecting a diamond for you that is unique and made to order.

Lifetime warranty

: Just like a traditional jeweller, we're always there for you and offer

 a lifetime warranty. Customers in the UK and US schedule to come back to our showroom to drop off their ring for a re-size or repair or they send it back to us, fully-insured, with RoyalMail or Fedex.

Touch and see: And finally, perhaps the most important one, yes, you 

CAN

 see the ring and diamond before buying:

Visit our showroom to see or try on rings and diamonds from our collection, or request a silver ring replica that we sent to you in the post so you can try on at home.

For bespoke ring designs, we've invested into a cutting-edge 3D printer that can print bespoke designs into a 3D resin and send it out to you, free of charge.

Visit our showroom to see or try on rings and diamonds from our collection, or request a silver ring replica that we sent to you in the post so you can try on at home.

Thousands of diamonds on our website have photos and videos of the actual diamond, zoomed in by more than 20x so you can see every little detail of the diamond. Seeing a diamond this way is often more helpful than seeing it in person, but if you want to see diamonds in person too, you can always schedule to visit a showroom.
The truth is, the "online" in "online shopping" is slowly fading as a term.
This is because, while eCommerce will continue to play a large part in the overall shopping experience, it is increasingly being combined with the physical product and service touch-points of brands like Taylor & Hart, in showrooms, stores and at home.
The future of retail, be it in engagement rings, or anything else, is about designing omni-channel experiences that customers love.
We're obsessed with creating this very experience for customers around the world, who want something truly special for an engagement ring or jewellery piece.
One of our key metrics, NPS (Net Promoter Score), measures and demonstrates the loyalty of our customers once they've experienced our seamless service.
So when it comes to considering online purchases, remember that just a few years ago, buying groceries, or even finding love online wasn't an everyday occurrence–just look how far online shopping and dating have come.
We hope you give the Taylor & Hart experience a try, and follow in the footsteps of the hundreds of customers who've recommended us on Trustpilot.