Proposal Stories: The Perfect Match – A World Cup Engagement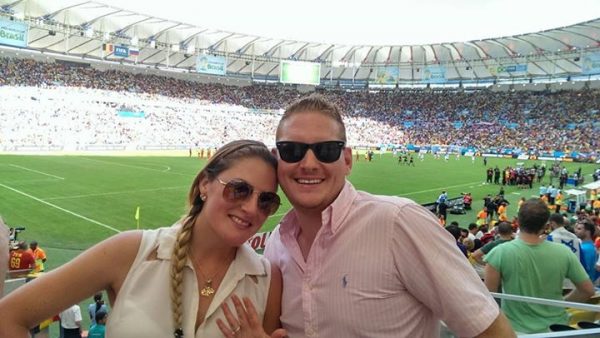 With the World Cup taking over our screens this summer, you might suppose that most men would be too busy watching the football to be thinking about getting down on one knee and proposing. However, one of our customers, Leon Hart found a way of combining the two – proposing to his girlfriend Paula with one of our diamond engagement rings mid-match at the World Cup in Brazil.
An avid football fan, Leon convinced Paula to accompany him on a two week trip to Brazil where they would support the England and Colombia teams. Having planned in secret to propose at one of the matches during their trip, Leon needed an engagement ring in time for their departure. With only one month until they were due to leave, Leon got in contact with us to present us with a challenge.
The difficulty was going to be keeping his plans a secret from Paula – as a couple who live and work together, they're rarely apart. Once we knew the deal, we pulled out all the stops to help ensure Leon's romantic intentions remained a secret. Everything went to plan – we're well practiced in the art of discretion and Paula remained none-the-wiser until Leon got down on bended knee.
While Paula was away one weekend, Leon undertook the difficult task of discovering her ring size. But unable to find any of Paula's rings to guide him, Leon found himself facing a dilemma. That's when his flatmate piped up that Paula had tried one of his rings only a few months before and it had been a perfect fit! We sent one of our guys out ASAP to meet with them and identify the size of the ring in question.
The diamond engagement ring that Leon had selected was a stunning piece with a fabulous round cut 0.30 carat diamond as the centre stone, atop an 18 carat pave band in white gold, it's simple elegance made it the perfect choice.
When the time came, mid-way through last weekend's match between Belgium and Russia, Leon got down on one knee and popped the question, presenting Paula with the stunning diamond engagement ring. Paula told us she was so overwhelmed that she spent the rest of the game in a daze and couldn't even remember the final score! We're so happy to have been a part of this fantastic proposal, it's definitely one we'll be talking about for a while. Congratulations to Leon and Paula on their engagement!