Build your own engagement ring
Drawing together timeless design with modern artistry, our collection of diamond engagement rings offers you an exciting selection of unique rings, allowing you to find a design that speaks to love you share with your partner. Certain styles determine the overall silhouette and impact of your engagement ring, so take time to consider if a solitaire, pavé, halo, or trilogy design is the one for you. From a gently curving oval cut to the striking angles of a princess cut, choosing the diamond shape best suited to your relationship is a great way to make your ring feel personal, so be sure to check out our full range of gemstones. Our designers draw creative inspiration from all over to bring you a diverse range diamond engagement rings, so explore our full selection of design styles below.
About our engagement ring collection
When shopping for your diamond ring, there are a plethora of elements to consider from metal type, band style, diamond shape, band width as well as diamond size and quality. However, the design elements that ring true for all of our collection rings is that every classic design looks beautiful from every angle and is comfortable to wear. The collection transcends trends and are destined to become treasured family heirlooms.
Mid-century modern design is sleek, yet always functional. That's what we wanted for the collection.
Understanding the anatomy of an engagement ring will help to describe and recognise the different elements of a ring's design and how you might like to customise it to suit your preferences. For collection designs that allow it, these rings are set with a small signature ruby on the inside of the band. The red ruby acts as a tangible symbol of our brand, capturing both our customers' story and the care everyone at Taylor & Hart has put into the design, craft and delivery of each product. It's also a sweet chance to personalise your ring-the ruby can be replaced with a gemstone that has special meaning to you or your partner.
Each design is priced without its centre stone, which can be chosen at the next stage of the ring builder. The designs can be set with diamonds or gemstones; from traditional white diamonds to colours such as pink, blue or yellow as well as lab-grown diamonds. Alternatively, each engagement ring can be set with side precious coloured gemstones that include blue, yellow, pink and peach-coloured sapphires, rubies and emeralds.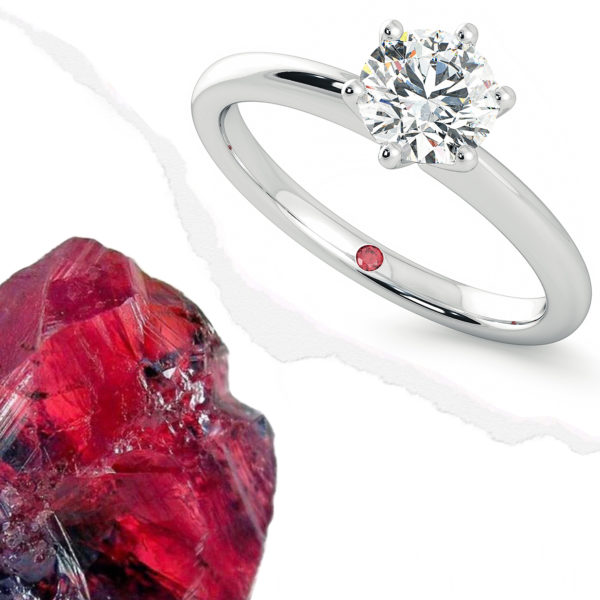 Styles
Solitaire rings
Solitaire rings feature a centre stone held in place by claws or a bezel setting with a plain metal band. The style is an icon of proposal culture, making up 70% of the engagement ring market. Known for their simplicity and striking appearance, solitaires let their centre stone take centre stage.
Halo rings
This heavenly style features a ring, or 'halo', of closely set smaller diamonds that surround the centre gemstone. This engagement ring style cleverly gives the illusion that your centre gemstone is larger than it is, with a sparkly finish that captures attention.
Pavé rings
Deriving from the French word for paving stones, this style typically features a centre gemstone with a band that is paved with small stones, set closely together. Each stone is separated and held in place by individual microscopic metal settings, giving the appearance of the shoulders being dusted with diamonds.
Trilogy rings
Often known as trinity or three stone engagement rings, trilogy rings feature just that-three gemstones or diamonds, each one symbolising the past, present and future. The trilogy most frequently sees a larger centre stone, with slightly smaller stones flanking either side. Typically, the side stones are around one third of the centre gemstone's size, but the size is totally up to the wearer-use very small side stones to accentuate the centre stone or three equally sized stones to give a fuller coverage on the finger.
Styles
Solitaire
Halo
Pavé
Trilogy
Metals
Platinum
Platinum-known for its beautiful, cool white sheen that is the perfect backdrop for your diamond or gemstone. This metal requires a low level of maintenance, with almost 60% of our customers opting for platinum rings.
White gold
18 carat white gold appeals to modern brides and grooms who desire the feel of gold with the colour and brightness of platinum. All white gold is plated in rhodium to give it a bright white appearance, so with normal wear, white gold does require replating every 1-2 years.
Rose gold
Synonymous with warmth, rose gold is a delicate and pretty metal choice and notably looks excellent on all skin tones. Rose gold rings are the second most popular choice amongst our customers.
Yellow gold
Yellow gold is likely famed for being the most traditional of precious metal options. They appeal to those who desire its rich appearance and strength, whilst retaining a sense of tradition.
Diamond engagement rings
Diamond shapes
Designs in the collection are available in the following diamond and gemstone shapes: round brilliant, cushion, oval, emerald, pear, princess or square, marquise, asscher, radiant, heart, hexagonal and even antique cuts like rose cut, old mine cut and Old European cut diamonds.
The 4 Cs of diamond quality
When it comes to choosing your diamond, there are a few elements to consider. The Gemological Institute of America (GIA) developed a diamond grading system so that you can choose a diamond, having never seen it, but can still trust you're getting exactly what you selected. The 4 Cs are cut, clarity, colour and carat weight and we encourage you to learn about all four and decide which is most important to you and work to balance the rest.
Where do your diamonds come from?
We source diamonds globally from diamond manufacturers that comply with the United Nations Kimberley Process in order to affirm all of our diamonds are ethically sourced. To learn more about the different sources of diamonds, from lab-grown diamonds to CanadaMark, visit our ethical engagement ring page.
How much do you spend on a diamond engagement ring?
There are plenty of myths surrounding how much you should spend on a diamond engagement ring-we're sure you've heard of the three month's salary rule, the one month salary rule or even the split-the-difference rule.
The US spends the most on engagement rings, with an average spend of $6,351 in 2017. While the average spend is significantly less in the UK, it doesn't mean people are buying inexpensive rings. Instead, we've seen a trend that has seen consumers move away from traditional choices, choosing to explore different designs, materials and styles as well as gaining a deeper understanding of a product's value before deciding what to spend on an engagement ring.
In summary, spend as much or as little as you are able to because no one should put a value on your love-it's priceless.
What is the meaning of an engagement ring?
Engagement rings are so special because they're more than just a jewellery purchase. They're a tangible mark of the intention to get married, while a wedding ring symbolises the union. We understand how sentimentally valuable an engagement is and we love that this symbol of commitment can be so personal to each couple.
Design inspiration & celebrity engagement rings
Especially for those people who's partner isn't into dropping hints, it can be hard to know where to start when it comes to looking for the perfect ring.
As designers, we've always looked to the high-profile jewellery of celebrities, royals, and cultural icons to kickstart our creativity. And lots of our customers feel the same! Browse through our collection of celebrity engagement ring guides to how you can incorporate some new ideas into a design that suits your price point.
Additionally, we've collected some of the most popular bespoke designs from our Instagram page into one place so that you can get the design ideas flowing. Browse our 'As Seen on Instagram' page here.
How do you figure out you or your partner's ring size?
You've decided to pop the question and take the first step to spending the rest of your life together, but what ring size is my partner?! We have some invaluable advice for choosing that perfect ring available on our ring size guide – even if you're planning a surprise proposal.
Behind The Design
Shyam
&

Sharanya
"The main focus was to balance the different colours and asymmetry of the band. We worked closely together to incorporate organic details that made it tell a lovely story."
read their story
About Taylor & Hart
When shopping for your engagement ring, consider the metal type, band style, diamond shape, the band width and the diamond size and quality.
You can buy an engagement ring set with the following diamond and gemstone shapes: round brilliant, cushion, oval, emerald, pear, princess or square, marquise, asscher, radiant, heart, hexagonal, rose cut and even antique cuts like the Old European.
We craft engagement rings in platinum, 18 carat white gold, 18 carat yellow gold and 18 carat rose gold. Our engagement ring designs are available in various setting styles, including classic, vintage (e.g. Art Deco, Art Nouveau, Retro) and modern or contemporary styles.
Each design is shown without a centre stone which can be chosen at the next stage of the ring builder. The designs can be set with diamonds or gemstones; from traditional white diamonds to coloured ones, like pink, blue or yellow. Alternatively, each engagement ring can be set with side precious coloured gemstones that include blue, yellow, pink and peach-coloured sapphires, rubies and emeralds.
When it comes to the centre diamond or gemstone, our designs include trilogy, solitaire, pavé-set, channel-set, halos, east-west, and "moi et toi" designs.
Now shipping securely to Paris, Berlin, Frankfurt, Madrid and other cities around Europe.