Bespoke Engagement Ring #100 – The Story of How We Started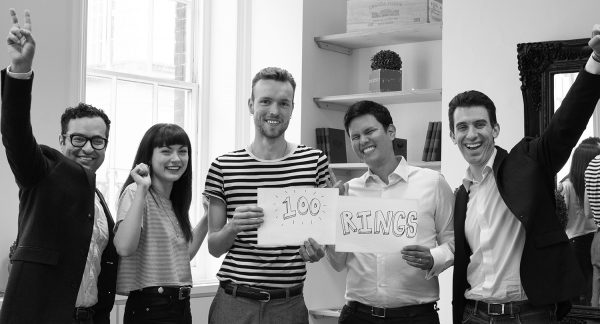 In the beginning…
Two years ago I got a call from Piers requesting we meet up for a chat. Piers is a friend from university days and when I got the call, at the time we were already trading in diamonds, but we had yet to come up with a great idea to enter the jewellery market. The meeting we were about to have was instrumental in shaping the vision behind what we now do at Rare Pink (but more about that later on).
In our meeting Piers told me he was madly in love with Jenni and he wanted to create her a truly unique and beautiful ring; a ring that would be inspired by his many hours of day dreaming, sketching ideas and researching engagement rings online. Piers is an innovator and a great product designer, so going for something off-the-shelf was just not going to be good enough.
We created what would become our first ever bespoke engagement ring, working very closely with Piers and his sometimes great and sometimes wacky ideas. It took us months to go through the cycle, from idea to finished piece. This cycle can now take as little as 5 days (if we are REALLY pushed for time).
The unique result of Piers' ideas and our commitment to shipping our first ever bespoke design can be seen below:
Taylor and hart's first ever bespoke engagement ring – the 'Jenni' ring.
The "Jenni" ring is inspired by both Jenni's profession (she is a botanist) with organic vines running down the shoulders and Pier's meticulous attention to detail. It was a ring completely matching its proposal as Jenni and Piers got engaged in the Amazon jungle soon after.
The next step…
After completing the journey of making our first ever bespoke engagement ring, we started talking to friends and clients, asking them what they thought about the idea of investing some time to create a unique ring as opposed to just buying an off-the-shelf piece.
We got some really amazing feedback. We realised that when shopping for an engagement ring, most guys don't naturally think "custom made" at first. However, when introduced to the idea of buying a ring with a story unique to them and their loved one, they love the concept.
We wanted the individuality and care considered of each ring to be exemplified by our brand name and so after some thought we concluded, that we would name our company Taylor and Hart – "Taylor" to represent the tailored nature of custom engagement rings, and "Hart" to represent the heart and love put into each ring.
We also made a decision there and then, that our bespoke experience and custom design offering would not just be some thing we offer on the side – it would BE our entire business and thus differentiate us from all our competitors with the really strong emotional appeal that our rings would offer in comparison to their standardised products.
100 unique stories
12 months since finishing our first bespoke engagement ring, I am very pleased and excited to announce that we have made and delivered our 100th ring. That is 100 unique stories that went into the design of each and every single ring.
A massive thank you to everyone involved, including the investors who believe in us, our amazing team who "make business happen" and of course you, our clients, for putting your faith in us by not only sharing your stories with us, but also making us a part of your story!
Looking forward to the next 100 and then who knows, perhaps 1,000+ in the years to follow.