How much does an engagement ring cost?
If you've ever thought about proposing, you'll also have wondered how much is reasonable to spend on an engagement ring.
So let's explore how much each element of an engagement ring can affect its cost, how you can maximize your value for money and how much other people spend on engagement rings.
How much do people spend on an engagement ring?
While there is certainly no 'set' amount someone should be expected to spend on an engagement ring, there are plenty of myths surrounding it.
There's the three-month's salary rule, the one-month salary rule and even the split-the-difference rule.
The nation that spends the most on engagement rings is the US, where the average cost of an engagement ring was at an all-time high in 2017, at $6,351 which is 25% higher than 2011.
Consumers understand that they can get better value by actually learning more about diamonds, gemstones and engagement rings online before committing to a purchase. They engage in "showrooming" – shopping both online and in-store – allowing consumers to see options in person, while keeping their online price-point by purchasing online.
An engagement ring is an enduring promise made to your beloved. Spend as much or as little as you are able to because no one should put a value on your love–it's priceless.
Kate Earlam, Design Director
Millennials are now also designing and buying custom-designed rings from jewelers like us because they serve as expressions of their unique stories.
Couples find inspiration in anything and everything, and for this special occasion, they're keen to create something that connects them, a little secret only the two of them share. They aren't drawn to a ring by its monetary value anymore, instead they place greater value on how that ring uniquely reflects the style and personality of its wearer.
Breakdown of how much an engagement ring costs
But the question isn't so much 'how much should you be spending?' but more 'how much does an engagement ring cost?'
Once you know the price breakdowns of each engagement ring element, you can comfortably set your own budget and you'll understand what you're actually spending your money on.
So before we dive in, it's worth mentioning that at Taylor & Hart, our collection engagement rings start at around $970, set with a 0.3ct emerald-cut center diamond.
Our bespoke engagement rings begin at around $1,500 with a similar sized diamond or colored gemstone.
Lab Grown Diamonds
If you are looking for a diamond engagement ring, choosing a lab grown diamond can have a large effect on the overall price of the ring. Lab grown diamonds are up to 40% cheaper than mined diamonds, while physically and optically exactly the same. The only difference is that while one was mined from the earth, the other was created in a laboratory.
Besides from the price advantage, lab grown diamonds are also seen to be more sustainable, as they are not mined and have a smaller environmental impact. Lab grown diamonds are also very traceable, the provenance of the diamonds can always be assured.
Customization and creativity out-values the monetary price of a ring. So let's talk about the cost of an engagement ring and how each element affects the total price…
What most affects the price of an engagement ring?
The main element that will affect the price of an engagement ring is the type of diamond or colored gemstone and its quality characteristics. For example, when creating a solitaire engagement ring, the center stone will often make up around 80% of the ring's value.
So how do I decide what carat weight to go for?
A diamond's carat weight refers to the weight of a diamond, not its size. A one carat diamond simply equates to 0.2 grams of diamond.
To give you an insight into how a diamond's carat weight affects its price, here is an average list of prices for a traditional solitaire engagement ring with a round center diamond with a clarity of SI1 and a color grade I, set in 18 karat white gold:
0.30ct – $1,095
0.50ct – $1,920
0.75ct – $3,345
1.00ct – $5,895
For the greatest balance of value and quality, for a platinum or white gold band, we recommend an Excellent cut, F or G colored diamond with a VVS (very very slightly) or VS (very slightly) included clarity. You can browse through over 100,000 diamonds on our diamond search tool to discover how different quality grades of diamonds retail for. You will notice that as well as carat weight, the shape, color, cut and clarity will also affect a diamond's price.
How can I ensure my ring looks great, regardless of my center stone's carat weight?
There are so many ways to design a ring in order to accentuate the size and appearance of your chosen center stone. Here are some ways to ensure your diamond or gemstone is displayed the best way it can be.
Fancy shape center stones
If you're keen to stick within a set price point, it's worth noting that diamonds of the same carat weight, but of a different shape will be priced differently. Round diamonds carry a premium over other shapes like a cushion, oval or princess cut because they produce the most waste in their cutting process.
Choosing a fancy shape will often provide you with better value than choosing a much sought-after round diamond. Elongated diamond shapes like the marquise, oval and emerald cut can also appear larger in appearance, despite being the same carat weight.
The chart below shows the prices of a one carat diamond in various shapes.
For example, a one carat G color VVS2 round diamond is currently retailing for around $6,650 compared to a 1ct pear shape with the same quality grade, for around $5,475. This demonstrates the level of potential savings if you're happy to choose a different shape to the traditional round.
Colored stones
Only one carat out of every 10,000 carats mined is a natural fancy color diamond. Their rarity and preciousness means that colored diamonds carry a premium.
A great way to include colored diamonds in your design is by featuring colored diamonds in the halo or pavé setting, which would carry a lower price point but still allow you to feature the much-sought-after colored diamonds.
Alternatively, sapphires, rubies and emeralds are a popular choice for a vibrant splash of color. They tend to carry a slightly lower price point, which usually means you can allocate more of your price point to a center stone with a higher carat weight.
Diamond color for different metals
If you want a traditional white diamond, you have the option to go lower on color grade if you're having your diamond set in yellow or rose gold. Due to the very slight yellow tint in diamonds graded as 'near colorless' (G-J), their color may be more apparent in a bright white metal, but would be masked when set against warmer tones of yellow or rose gold.
This is not to say that 'near colorless' diamonds will have a visible tint when set in white metals. It simply means that you have the option to drop the color grade further than you might otherwise if your ring will be cast in yellow or rose gold.
Trilogies and ratios of center stones to side diamonds
A trilogy engagement ring, or sometimes called a three-stone engagement ring, or trinity engagement ring, is simply a design style that features three diamonds or gemstones at its center. Each of the three stones singularly symbolizes your past, present and future together as a couple.
Many people think that a trilogy is out of their price range because there are three stones, however the flanking stones will typically cost far less than the center stone. Generally speaking, the center stone will often be larger to signify the importance of the 'present' and will require the bulk of your budget.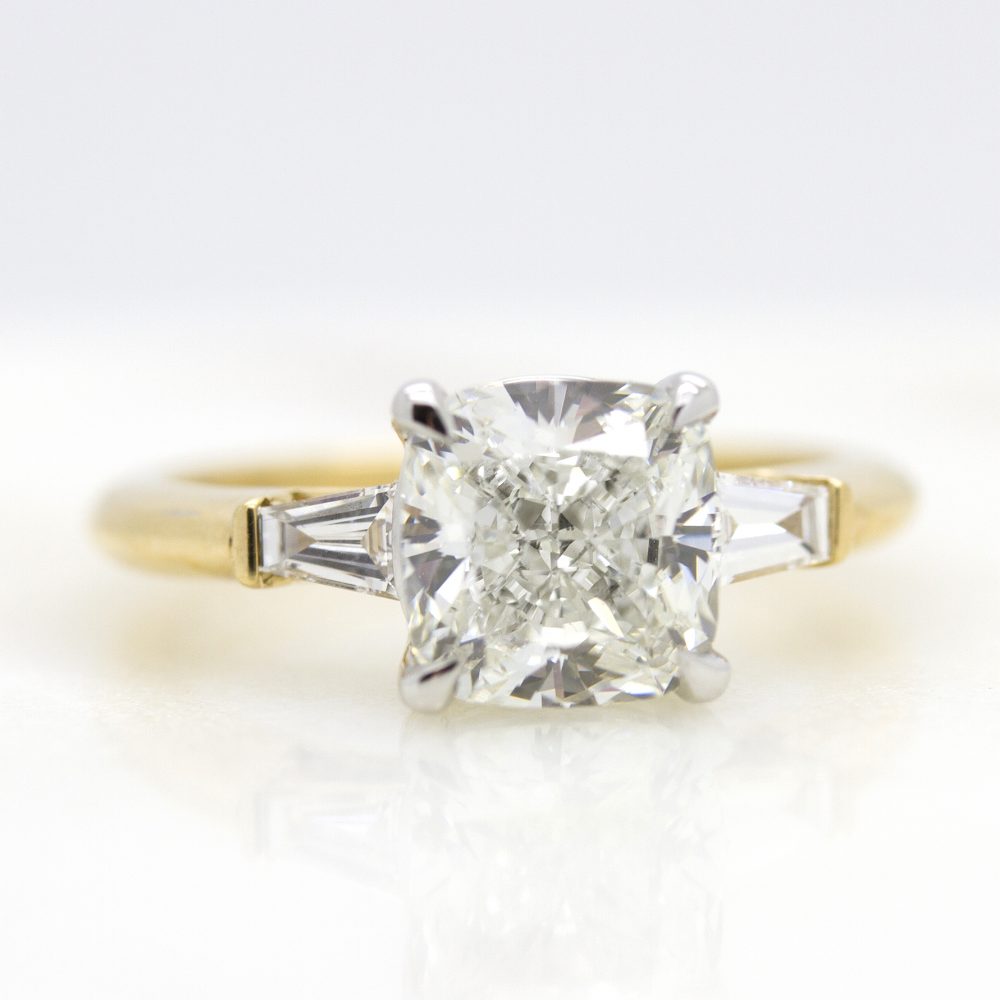 Halos can give the appearance of a larger center stone
A halo of diamonds or other precious stones surrounding your center stone is a great way to enhance the overall appearance of your ring. A halo engagement ring gives the illusion of the center stone being larger than it actually is, while also providing a dramatic, cluster effect to your design.
Ranges of mount prices
The mount, or the metal of an engagement ring can affect the overall price of your ring. If you are struggling to stick to a tight budget, going thinner on your band width or tapering the band at either side of the center stone will reduce the weight of your ring.
Metal value is charged in grams so naturally, the heavier your design, the higher the price. Comparably, platinum comes at a premium to gold.
Finishing touches
Each engagement ring can feature a number of finishing touches– a design element, small or large, that gives the final 'look' to your ring. These range from milgrain (small beading used to frame a ring's design) to engraving or filigree metal cut outs.
These design elements will add to the overall cost of your design because they require more time and craftsmanship. However, these can be great ways to add detail to a design that features a single stone.
Lab
The Gemological Institute of America is an international non-profit organization dedicated to producing consistent, accurate and unbiased grading reports. Each stone is graded twice, by different graders, to ensure they arrive at the same grading report. GIA developed their grading system so you can choose a diamond without seeing it, yet still, trust you're getting exactly what you paid for.
While there are other diamond grading laboratories available, diamonds graded by the GIA are certainly the most highly valued and respected in the industry.
So what do people actually choose when it comes to their engagement ring?
Based on our 2018 order history, we see that the most popular diamond combination is…
Round, VS1/VVS2, F/G, excellent cut.
Clarity
The most frequently selected clarity grade is VS1, closely followed by VVS2, VS2 and VVS1. Each of these clarity grades are excellent choices that are eye clean, meaning they won't have inclusions visible to the naked eye.
Color
The most popular diamond color is F. This is closely followed by E color and G color. E and F colors are in the colorless category while G is in the near colorless category – all diamonds in the colorless and near colorless category would appear bright and white in appearance.
Cut
As previously mentioned, cut quality grade is only applicable for round diamonds. 92.5% of round diamonds we sell are an excellent cut grade, which means they have the optimum brilliance, sparkle and light dispersion.
Shape
The most popular shape is the round diamond engagement ring, with over 50% of customers choosing this iconic engagement ring shape. The next most popular shapes are oval, cushion and princess, which often offer better value.
Metal
Platinum is the most popular metal choice amongst our customers with 58.8% of rings being crafted in this metal, while 41.2% of rings are crafted in 18kt gold.
Following the contemporary trend of blushy toned jewelry, 30.4% of rings are crafted in rose gold, 8.1% in yellow gold and just 2.7% are crafted in white gold.
White gold has a low percentage because while it offers a practically identical appearance to platinum, is should be re-plated with rhodium every 12-24 months. Platinum does not require the same level of maintenance, making it a preferred choice for an item of every day jewelry.
Carat
The average carat weight for a center diamond averages at around 0.79ct. Colored gemstones often provide slightly better value for money, resulting in an average carat weight for colored gemstones averaging at around 0.96ct.
Price
Throughout 2018, the average spend on engagement rings for our US customers was $5,563.
In summary, as a smart shopper, how do I maximize the value I receive when considering the engagement ring's cost?
Choose a ring design from our collection. Fully custom rings carry a premium over our collection pieces because of the sheer amount of extra work that must go into them. With over 100 different designs in our engagement ring collection, you're guaranteed to find one that suits your requirements and taste.

Consider a lab grown diamond. Lab grown diamonds are physically and optically the same as their mined counterparts, but around 30-40% less expensive.

If you're looking for a diamond engagement ring, choose a G/H color and VS2 clarity. This combination looks stunning and does not carry the premium of higher clarity and color grades.
Choose a ring setting with less side diamonds. Pavé and halo engagement rings have a higher price point than solitaires. Instead, you can add flair and detail using design elements like milgrain, engraving, filigree etc.
If the size of the center stone is important, choose a fancy shape diamond or gemstone instead of a round. Fancy cut gemstones are priced lower than round brilliant diamonds.
Ultimately, there is no "right" answer for calculating what you should spend on an engagement ring. Dispel the myths and spend what you're comfortable with.
*The prices in this post are valid on day of publication but prices may change and most often increase over time.